Chocolate Fondant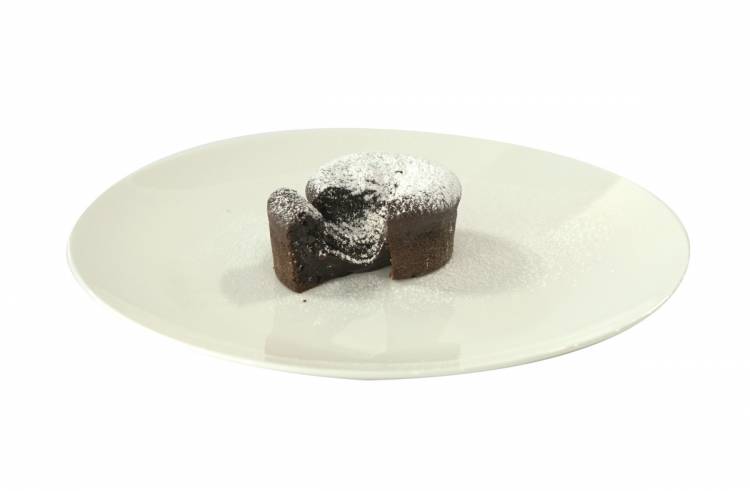 50
g
Butter melted
250
g
Dark Chocolate good quality, in chunks
200
g
Butter diced
200
g
Golden Castor Sugar
4
pcs
Whole Eggs
4
pcs
Egg Yolks
200
g
Flour plain, sifted
1
pinch
Cocoa Powder for dusting
Ingredients
Line 8 small ramekins with melted butter & dust with cocoa powder, tap out any excess. Melt 200g of chocolate (leave 8 chunks aside) & the butter in a bowl over a simmering pan of water, when combined leave to cool for 10 mins. Whisk sugar, whole eggs & egg yolks until ribbons are formed. Beat in the sifted flour, then add the chocolate mix in 2 stages and beat until completely mixed in. Pour mix into ramekins 1/2 fill & place a chunk of chocolate in the centre then top with more mix. Refrigerate for at least 20 minutes until order. By order place one ramekin on the tray. The oven settings are for one piece only.
1. Food Preparation
Cook as per oven profile.
2. Cooking Instruction
Remove the ramekin from the tray. Rest for 30 sec after cooking before you remove the fondant from the ramekin and serve.
3. Food Serving Instruction
Note: Information emanating from Welbilt is given after exercise of all reasonable care and skills in its compilation, preparation and issue, but is provided without liability in its application and use. All cooking settings are guides only. Adjust cooking settings to allow for differing product weights and start temperatures. Always ensure that food save core temperature has been achieved prior to service.