Mango Prawns with Yam Nest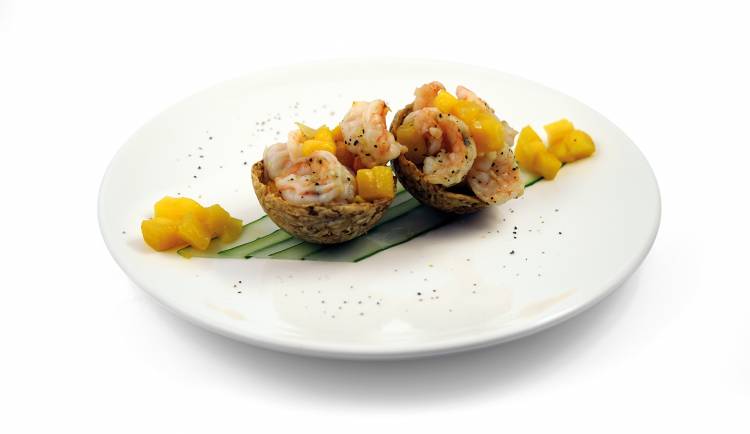 9
pcs
Giant Prawns
1
tbs
Onion Brunoise
1
pinch
Salt
1
pinch
White Pepper Powder
1
tbs
Oil
1
tsp
Sesame Oil
0.5
pcs
Sweet mango ripe
1
tsp
Lime Juice
3
pcs
Cucumber Slices
1
tsp
Black Pepper crushed
1
pcs
Yam Nest
Ingredients
Shell the prawns except the tail shell and butterfly cut the meat. Marinate the prawns with onion, salt, white pepper and both oils and store it in a fridge. Peel the mango and cut into cubes. Place the prawns on the tray.
1. Food Preparation
Cook as per oven profile. Add the yam nest after the first step.
2. Cooking Instruction
Remove the cooked food from the tray and serve. Mix the prawns with half of the mango and the lime juice and fill it into the yam nest. Use the other half of mango, cucumber and black pepper as garnish.
3. Food Serving Instruction
Note: Information emanating from Welbilt is given after exercise of all reasonable care and skills in its compilation, preparation and issue, but is provided without liability in its application and use. All cooking settings are guides only. Adjust cooking settings to allow for differing product weights and start temperatures. Always ensure that food save core temperature has been achieved prior to service.