Bread and Butter Pudding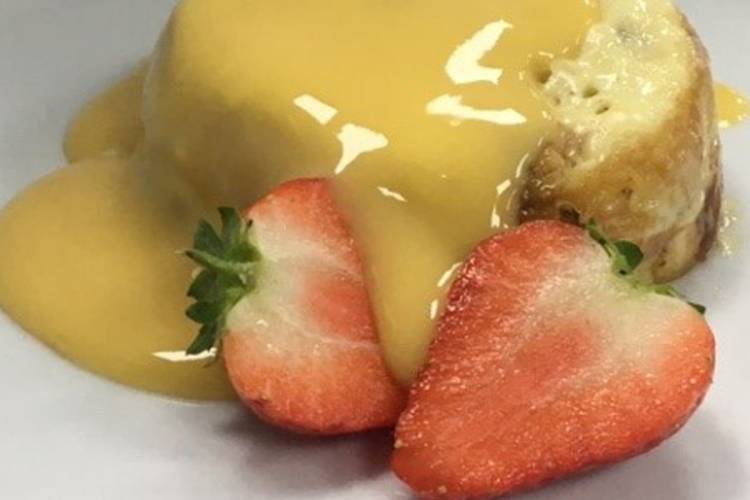 03:00 min
Accessories:
2x Non-stick Mould 32Z4126
3
pcs
Chocolate Chip Brioche Rolls
20
g
Butter unsalted
3
pcs
Egg Yolks
200
ml
Double Cream
100
ml
Milk
50
g
Caster Sugar
4
tbs
Custard
1
tsp
Icing Sugar
1
pcs
Strawberry
Ingredients
Grease the 2x non-stick mould with some of the butter. Make the egg mixture by mixing the eggs yolks, cream, milk & sugar together. Slice the brioche rolls into 8 even slices and spread with butter. Dip the brioche slices into the egg mixture then layer them into the mould. Each section of the mould will use 12 slices. Pour over any remaining egg mixture over the puddings. Leave for 10 mins before cooking.
1. Food Preparation
Cook as per oven profile.
2. Cooking Instruction
Remove the cooked food from the mould and serve with warm custard and garnish with icing sugar and strawberry for colour.
3. Food Serving Instruction
Note: Information emanating from Welbilt is given after exercise of all reasonable care and skills in its compilation, preparation and issue, but is provided without liability in its application and use. All cooking settings are guides only. Adjust cooking settings to allow for differing product weights and start temperatures. Always ensure that food save core temperature has been achieved prior to service.