Cauliflower with Mushroom Sauce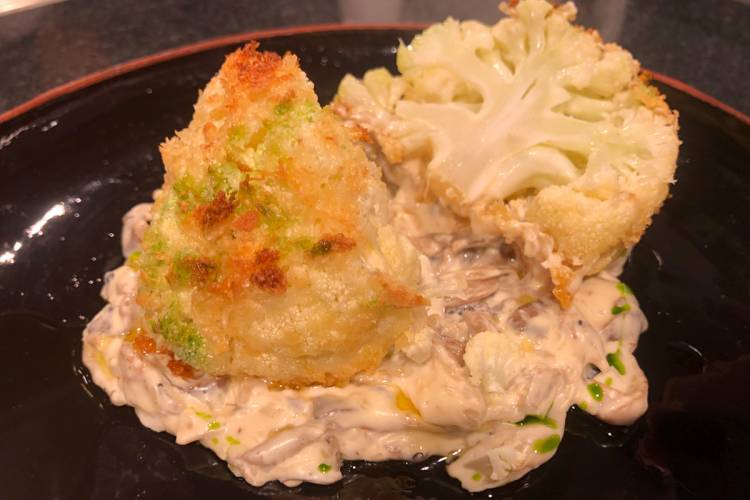 200
g
Oyster Mushrooms
100
g
Leek
20
ml
Olive Oil for cooking
1
tbs
Thyme chopped
1
tbs
Garlic chopped
100
ml
White Wine
500
ml
Cream 23%
1
pinch
Salt & Pepper
1
pinch
Nutmeg
180
g
Cauliflower
50
g
Butter
100
g
Panko
50
g
Parmesan finely grated
1
tsp
Green Oil
1
tsp
Red Oil
Ingredients
For the mushroom sauce: Pull apart the oyster mushrooms, cut the leek and fry both in oil. Add thyme and garlic. Add white wine and reduce to half, add cream and reduce by 1/3. Season with salt, pepper and nutmeg to taste and keep aside until required. Remove the stalk of the cauliflower and wash it. Immerse in melted butter, evenly apply salt and pepper and immerse in a mixture of panko and parmesan. Place it on the tray.
1. Food Preparation
Cook as per oven profile.
2. Cooking Instruction
Remove the cooked food from the tray. Pour the sauce in the center of the plate, place the halved cauliflower on top and decorate with the red and green oil.
3. Food Serving Instruction
Note: Information emanating from Welbilt is given after exercise of all reasonable care and skills in its compilation, preparation and issue, but is provided without liability in its application and use. All cooking settings are guides only. Adjust cooking settings to allow for differing product weights and start temperatures. Always ensure that food save core temperature has been achieved prior to service.